Bluewater's Tanzania Big Game Safari
Join Bluewater Travel in August 2023 for a Tanzania Big Game Safari. A wealth of stunning wildlife awaits. We visit the world-renowned Serengeti that offers some of the most breathtaking wildlife viewings in Africa. The Ngorongoro Crater, also known as the eighth wonders of the world, the largest intact collapsed caldera on earth filled with every animal species in East Africa. And lastly, the Tarangire National park is known for its congregating herds of elephants, wooded savannahs, and network of swamps.
August 6 - 16, 2023 (10 Nights)
Trip Leader: Craig Dietrich
$5,999 per person
for shared accommodations
Upgrades:

$1,500

for a private room;

$750

for a safari vehicle with only 3 guests (the whole row to yourself)

Includes Serengeti National Park, Ngorongoro Crater, and Tarangire National Park.
Why Join This Trip?
✓ All-inclusive prices, meals and accommodations
✓ Multiple National Park Trips included.
✓ Private use of a 4x4 safari vehicle and unlimited mileage on game drives.
✓ One of the best destinations for exploring wildlife.
↑ Back to Menu
Trip Overview
Join our newest itinerary to Tanzania and discover some of Africa's best safari spots with renowned wildlife photographer, Craig Dietrich. After an overnight stay in Arusha, the group drives south for 3 days of game drives in Tarangire National Park. It's then on to Serengeti National Park, via a tour of the famous Ngorongoro Crater. At the end of the trip, the group will fly from Kogatende back to Arusha for their outbound international flight.
Tanzania offers a huge diversity of game species and is one of the best destinations for spotting the Big 5. From the rolling planes of the Serengeti to the dramatic cliffs of the Ngorongoro Crater, the stunning scenery sets the perfect backdrop for photographing the abundant wildlife. Near August is an ideal time to visit when huge number of elephants, giraffes, and buffalo gather throughout Tarangire National Park, and the wildebeest migration across the Serengeti is coming to an end.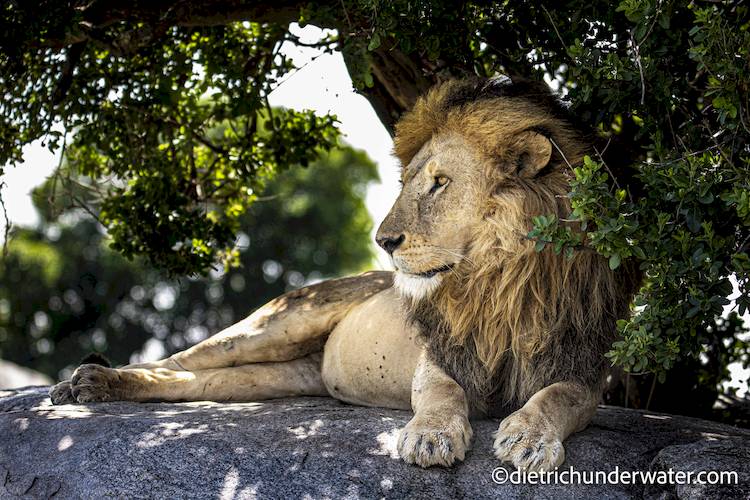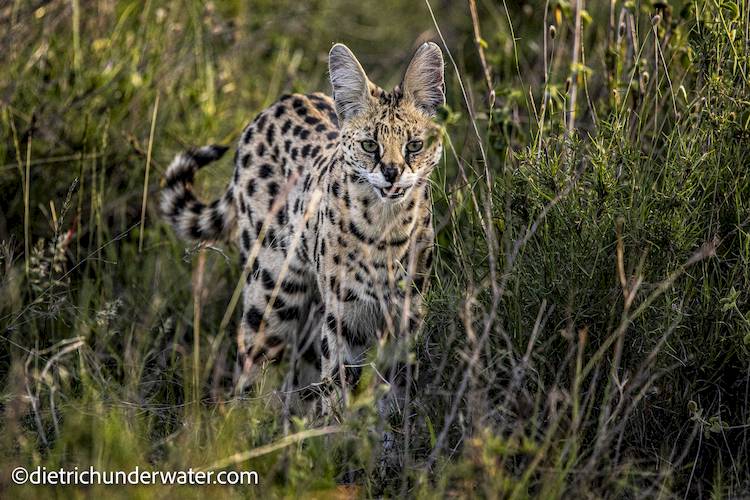 Here's the schedule for this trip:
Day 1: Katambuga House, Arusha (6 August)
Arusha is the safari capital of Tanzania located at the foot of Mt. Meru, close to Mount Kilimanjaro, the Manyara, Tarangire, and Ngorongoro National Parks. From there it's only a short trip to the Serengeti. Just to the north, on the slopes of Mt. Meru is the Arusha National Park. Built by the Germans as a center of colonial administration because of the temperate climate, Arusha is a good spot to take a day or two off from your safari.
Day Itinerary
Arrival at Kilimanjaro International airport. After finishing passport control and customs, you are met by your Safari guide at the arrivals gate. After a brief introduction, your guide takes you to Arusha, for check-in and overnight.
Driving time is approx. 1.5 hours
Overnight: Katambuga House
Day 2-4: Tarangire Safari Lodge, Tarangire National Park (7 August to 9 August)
After the Serengeti, Tarangire has the greatest concentration of wildlife in Tanzania, and in the dry season, the Tarangire River is a magnet for thirsty wildlife. Large herds of elephants and migratory wildebeest, zebra, buffalo, impala, gazelle, hartebeest, and eland gather, and not surprisingly the predators follow. This is also the one place in Tanzania where dry-country antelope such as oryx and gerenuk are regularly spotted. Tarangire is also known for its spectacular baobab trees and its breathtaking views of the Masaai Steppe and the mountains to the south. Located just a few hours drive from the town of Arusha, Tarangire is a popular stop for safaris traveling through the northern circuit on their way to Ngorongoro and the Serengeti. The park extends into two game-controlled areas and the wildlife are allowed to move freely throughout.
Day Itinerary
After breakfast, depart your lodge with a packed lunch and drive to Tarangire National Park. Enjoy your day with game drives in the park and lunch at a picnic site. Late afternoon arrive at your lodge for check-in, dinner, and overnight. You will stay for 2 nights with game drives.
This is a full-day activity. The drive from Arusha to Tarangire is about 1.5-2 hours.
Overnight: Tarangire Safari Lodge
Tarangire Safari Lodge is located within the national park boundary of Tarangire National Park, approximately 10 km away from the main entrance. Perched at the edge of a natural bluff, the lodge is renowned for its panoramic views of the Savannah and Tarangire River below, providing breathtaking scenery and game viewing. The lodge's safari tents, with thatched roofs and large, mesh screened windows, provide the ideal opportunity to connect with the sights and sounds of nature. Each tent has a comfortable veranda, ideal for bird and game viewing, or reading a favorite book after a dusty safari. With a choice of twin, double, or triple accommodation, all tents are equipped with en suite bathrooms with solar-heated showers, ample cupboard space, and cultural touch of local textiles. The five circular bungalows, built in a similar style to the Maasai boma, offer a more spacious option for family and triple accommodation. The airy rooms are situated near a large watering hole, creating the opportunity to watch wildlife from the shaded veranda. The bungalows are set away from the main lodge, providing privacy, and all are equipped with large en suite bathrooms with solar-heated showers, and comfortable bedding made from local textiles.
Day 4: Ngorongoro Farm House, Karatu (9 August)
Day Itinerary
After breakfast, depart your lodge with a packed lunch and drive to Tarangire National Park. Enjoy your day with game viewing and your lunch at a picnic site. Late afternoon drive to your Karatu lodge for check-in, dinner, and overnight.
This is a full-day activity. The drive from Tarangire to Karatu is about 1.5-2 hours.
Overnight: Ngorongoro Farm House
Ngorongoro Farmhouse Lodge is situated beneath the majestic Oldeani Volcano and boasts easy access to both the untamed wilderness of Ngorongoro Conservation Area, as well as the simple pleasure of a ramble through 500 acres of farmland. Ngorongoro Farm House was inaugurated on February 20th, 2003, and is offering 52 room cottages, 49 standard rooms, and 3 suite rooms, all with ample space inside, built on the style of an old colonial farm and rustically decorated with local materials and full of details of good taste, with the purpose of offering our clients an imaginary journey to the life of the days gone.
Day 5: Lake Masek Tented Lodge, Ndutu (10 August)
The Ngorongoro Crater is game viewing gone crazy and it is not surprising that with is one of Tanzania's major tourist drawcards. Within the crater rim, a daily wildlife drama is played out as large herds of zebra and wildebeest graze nearby lions, leopards, elephants, and black rhinos. Outside of the crater, a similar drama continues in a more spread-out manner with Masai herdsmen thrown into the mix.
Day Itinerary
After breakfast, depart from your lodge with a packed lunch and drive through the lush Ngorongoro highlands into the Ngorongoro conservation area, descend into the Ngorongoro crater, and spend half a day on the crater with game viewing. In the afternoon ascend and drive to the Serengeti plains. Arrive at the Ndutu woodlands in the early evening, check in to your lodge for dinner and overnight.
This is a full-day activity.
Overnight: Lake Masek Tented Lodge
Lake Masek Tented Lodge is situated in the Ngorongoro Conservation Area, overlooking Lake Masek. The unique location is witness to the wildebeest migration which takes place from December to April each year. There is resident Big 5 game all year round in the area. The camp is Eco friendly, all the electric power is supplied by solar panels and water is collected during the rainy season. All the products used are biodegradable in order to ensure that the environment is kept pristine. Guest accommodations feature 20 luxury tents with en suite facilities and either king-sized beds, twins, or triple beds. Each tent is built on a raised wooden platform with a veranda from which guests can observe the wildlife visiting Lake Masek. The bedroom area is ample and tastefully furnished. The bathroom area with twin washbasins, a standalone bath, and an outside shower is separated from the bedroom area by way of a screen. Guests can enjoy a relaxing bath or take a shower under the stars.
Day 6: Kati Kati Tented Camp, Central Serengeti (11 August)
The Serengeti together with Kenya's Masai Mara Game Park forms Africa's most famous wildlife park. The image of acacia trees on an endless grass plain epitomizes Africa for many, and then add a Masai warrior and some cattle to the picture and the conversation needs to go no further. The annual wildebeest migration through the Serengeti and the Masai Mara is the largest mass movement of land mammals on the planet – with more than a million animals following the rains. But that is not where the game viewing ends; large prides of lions, elephants, and giraffes in grasslands, gazelles, and eland to mention but a few. Aside from traditional vehicle safaris, hot-air ballooning over the Serengeti plains has become almost essential and you can even do a horseback safari.
Day Itinerary
After breakfast, depart your lodge with a packed lunch and drive through ndutu woodland. Explore the short and long grass plains, the river valleys, and the woodlands. Late afternoon arrive at your lodge in the central Serengeti for dinner and Overnight. You will stay for 1 night with game drives.
This is a full-day activity.
Overnight: Kati Kati Tented Camp
The camp offers comfortable accommodation and a unique opportunity to enjoy a real safari camp experience. The camp is only a two-hour scenic drive from Olduvai Gorge Museum and Grumeti River. A cozy mess tent is located in the center of the camp where meals are served. The campfire is ready every evening for appetizers and snacks before dinner. 10 tents with en suite facilities. There are several airstrips in the National Park that receive scheduled flights from Arusha as well as charter flights.
Day 7-11: Matembezi Classic Camp Northern Serengeti, Northern Serengeti (12 August to 16 August)
The vast, rolling savannah of the Northern Serengeti, is known as the hub of the great migration. The landscape is characterized by vast stretches of savannah interspersed with acacia trees and riverine woodlands. Wildlife can be seen along the banks of the Mara River and visitors can view the annual spectacle of the half a million migrating wildebeest. Commonly spotted wildlife include: a multitude of plains game such as buffalo, zebra, gazelles, impala, giraffe as well as lion and leopard. Visitors can look forward to bird watching, hot air ballooning, game safaris, and guided bush walks.
Day Itinerary
After breakfast, depart your lodge with a packed lunch and drive through the Serengeti plains heading north. Explore the long grass plains the river valleys and the woodlands. Late afternoon arrive at your lodge in the northern Serengeti for dinner and Overnight. You will stay for 4 nights at Matembezi Classic with game drives.
This is a full-day activity.
Overnight: Matembezi Classic Camp Northern Serengeti
Classic Camping is about total privacy with no other camp for miles around. The tents are spacious and comfortable offering the perfect blend of mobility and comfort, the sites are wildlife-rich and scenically beautiful and the dining caters to your personal needs with a private chef, a well-appointed mess tent, and free consumption bar.
Classic mobile camping is the best standard of mobile camping in Tanzania; in the grand style of the traditional East African safaris, once the privilege of royals. Large, comfortable, and beautifully furnished mobile tents, with en-suite toilets and hot showers. It is a private home away from home in the bush and is ideal for anyone who wants the ultimate in comfort, mobility, and exclusivity, offering a more flexible wilderness and wildlife viewing experience than any lodge can give!
The camp is fully lit by solar lighting, the kitchen is equipped with a gas freezer and fridge, and a generator serves as a backup for any emergency. The camp is run with strict adherence to eco principles, all cooking is done on gas and bio-briquettes brought in from our head office.
Day 11: End of Itinerary (16 August)
Day Itinerary
Fly from the Serengeti to Arusha Airport. A transfer vehicle awaits you at Arusha airport to take you for lunch. After lunch, you are transferred to Kilimanjaro Airport to connect with your international flight.
↑ Back to Menu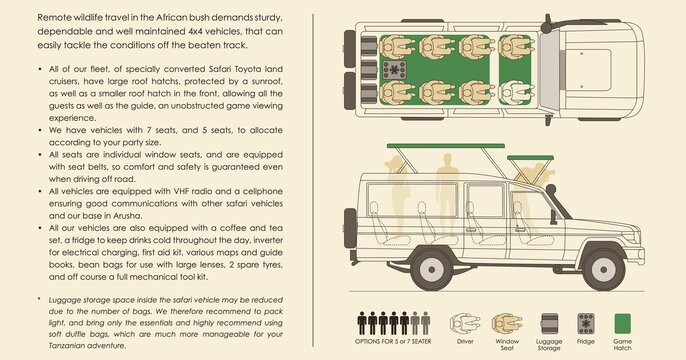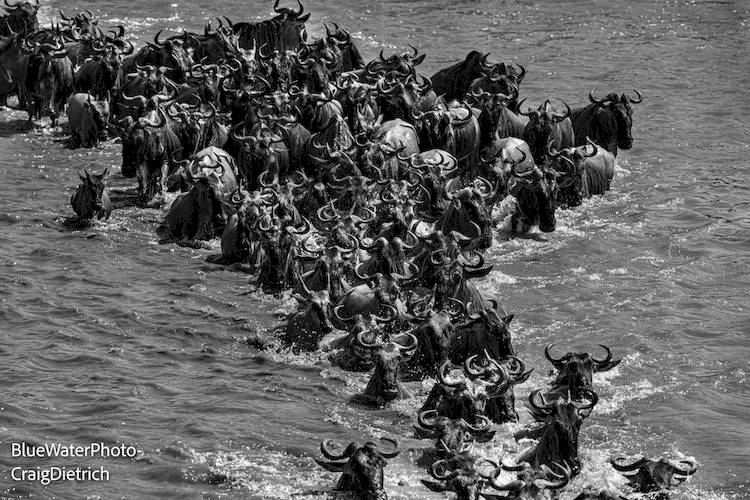 Accommodations
1 Power is available from 6.45am - 10am and from 6pm - 11pm.
2 80 litres of hot water available at a time. Hot water takes 20 minutes to re-heat.
3Wifi only available in main area.
4 20 litres of hot water available at a time. Can request more if needed.
5 40 litres of hot water available at a time. Can request more if needed.
6​ Solar-powered electricity with back-up generator.
Tanzania Overview
Home to Africa's highest mountain Kilimanjaro, Tanzania will sweep you away with its natural beauty and exciting safaris. When we first arrive in Arusha you will already be amazed by Maasai culture, their bold colors, warm smiles, and lively daily lives. The Arusha city is surrounded by stunning scenery from where we start our journey to see all the beauty Africa has to offer.
Away from the busier areas, Tarangire National Park will promise its visitors wilderness and adventure. You will see herds of elephants and savannahs including baobab and acacia woodlands. Other animals you can see here are herds of buffalo, Thomson gazelle, zebra, wildebeest, gerenuk, and many more. Moreover, there are more than 500 species of birds in this national park like the Yellow-collared lovebirds and the world's largest bird, the stocking-thighed ostrich.
THE SERENGETI NATIONAL PARK
The park has become the synonym of African Safaris with golden sunsets over the savannah, clouds of orange dust, and where you can see the famous Great Migration. You also might be able to see black maned lions, leopards, rhinos, and wild dogs. One of the reasons that this park is one of the most famous ones in Africa, is that its ecosystem is the oldest and most complex in the world.
NGORONGORO CRATER
The Ngorongoro Crater is unique for having the highest density of lions in the world, including the black maned lions. It's an incredible sanctuary for wildlife and you can also see herds of zebra, gazelle, black rhinos, hippos in muddy water, cheetahs, thousands of flamingos, and much more. Besides wildlife, the Maasai tribes live in the area as well, where you can learn more about their culture.
Visiting Tanzania in August
The trip takes place during the best season to see the most wildlife. From June to October, the Great Migration takes place which is the best time to see much of the wildlife gathering around remaining waterholes due to the low rainfall throughout winter.
Inclusions
✓ Park and Ngorongoro Conservation area entrance fees as required as per your itinerary.
✓ 1 Half-day Crater tour and Ngorongoro Crater service fee(s) x 1.
✓ Bed, dinner, and breakfast on the day of arrival.
✓ Meals and accommodation in lodges/camps on safari as per your itinerary.
✓ Unlimited mileage on game drives.
✓ Private use of 4x4 safari vehicle.
✓ The services of a dedicated professional safari guide.
✓ Mineral water in vehicle on Safari drives.
✓ Pick up from Kilimanjaro International airport (JRO) on Arrival in Tanzania and transfer to your lodge for overnight.
✓ Flights from Kogatende to Arusha, inclusive of the required airport taxes and fuel supplement; according to your itinerary.
✓ Lunch in Arusha on the last day of your safari.
✓ Transfer to Kilimanjaro airport to connect to your outgoing flight.
Exclusions
✗ Flights not specified.
✗ Visas.
✗ Insurance.
✗ Items of a personal nature.
✗ Any service not specified.
↑ Back to Menu
About the Trip Leader
Craig Dietrich served our country as a Naval photographer during the Gulf War, where his thirst for adventure was born when he was given the opportunity to travel. After leaving the Navy, Craig built a successful family photography business and later decided to expand his portfolio by spending several years concentrating on the world of underwater photography.
Craig took his first trip to Africa in 2019, and the beauty there inspired him to return to his roots of topside photography. His introduction of the "Safari Collection" allowed his photography vision and artistry to be shared with a broader audience, including leading trips to Tanzania to share its wonder with others.
Craig has been leading trips for Bluewater since 2016 and lives in South Florida with his wife, Julie. They are pet parents to Bubbles and Salty.
To learn more about Craig's work, visit www.dietrichunderwater.com.
↑ Back to Menu
Travel Information & What to Pack
CLOTHING
Bring comfortable clothes and dress modestly to respect the local people and culture. Be prepared with clothes both for warm weather conditions on the plains and colder temperatures on the hilly and mountainous areas. Also, the early mornings and evenings can be surprisingly cool! Wear neutral-colored clothes on safaris and especially in lighter tones or khaki as the tsetse flies are attracted to dark colors. We also recommend packing light. Most of the lodging offers laundry services at an extra cost, but many of them also do only hand washing and don't accept underwear.
FOOD & WATER
We recommend bringing your own water bottle as many lodges and camps have a water dispenser to fill your bottle with drinking water. To support the community, local produce is used as much as possible. Trying new foods will be part of the experience!
Electricity supplies in rural areas are mostly provided by generators or solar panels. Though the camps and lodges can provide lighting and power in guest rooms, most of the rooms do not have electricity sockets. Ask about the charging facilities in the accommodations. The electricity supply in Tanzania is 200 volts/AC50Hz. The plugs do vary and we recommend taking multi-adapters to cope with 3 square pin sockets and 2 round pin sockets.
The local currency is the Tanzanian Shilling. All international airports have money-changing facilities and there are banks and ATMs available, but we recommend changing your money upon arrival as it is more difficult to change money whilst on safari. Credit cards are accepted in larger hotels and restaurants, but it is preferable to travel with cash.
↑ Back to Menu
Flight Information
Guests will be picked up from the Kilimanjaro International Airport (JRO) and transferred to a lodge for an overnight stay.
For the outgoing flight, guests will also be transferred from the accommodations to the airport.
Luggage allowance on the domestic flight from Kogatende to Arusha is 20kg. Additional weight isd $3/kg and MUST be booked in advance.
The recommended arrival time to JRO airport is at 2 PM and the earliest departure time from JRO at 5 PM.
If you have any questions, please email us. We will arrange your transport to the resort.
↑ Back to Menu
Payment Schedule
Deposit: $1,500
Balance: June 1, 2023
↑ Back to Menu
↑ Back to Menu
Photo Gallery

---
↑ Back to Menu
A resource of information for guests who have signed up for the trip.
Tanzania Health and Vaccinations
About the Safari Vehicles - N.B. Ideally wear sandals or flip flops that can be easily removed to allow you to stand on your seat for the best view. Almost no walking is done during the game drives.
All visitors to Tanzania require an entry Visa which costs between $50USD and $100USD depending on your nationality. While this can be purchased on arrival, we highly recommend applying in advance using the eVisa site.
↑ Back to Menu
Related Articles
Scuba diving in Africa - We also organize dive trips across Africa, check out our top picks.
↑ Back to Menu